Bone Densitometry
Exam Information
What is a Bone Densitometry (Bone Density) Exam?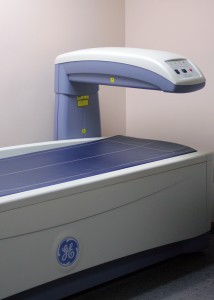 A bone density test, also known as a bone mineral density test (BMD), is a diagnostic exam that is used to measure the strength and density of bones. It is done at Sutter Buttes Imaging via technology called Dual-energy x-ray absorptiometry (DEXA). DEXA uses very low doses of radiation to detect the presence of osteoporosis and osteopenia. This test also evaluates the possibility of fractured bones and helps to determine if preventative treatment is necessary.
For more information about a Bone Density Exam:
http://www.radiologyinfo.org/en/info.cfm?PG=dexa&bhcp=1
For more information about Osteoporosis, please visit: http://www.nof.org.
Preparation
Please wear comfortable clothing that has no metal zippers or buttons in the abdominal or pelvic areas. If you do not have clothing without metal components, we can provide you with a gown.
Please inform the technologist if :
You might be pregnant.
You have taken barium contrast in the last 10 days, as this may interfere with the exam.
You had any hip replacement surgery
Please inform the technologists if you think you might be pregnant.
What To Expect
We ask that you remove all jewelry, hair accessories, glasses and other metal objects as they interfere with the exam. You will be asked to lie down on a padded table while the DEXA unit scans over your lower spine and both your hips. You will also have a lateral vertebral assessment of your mid and lower spine to determine if there are compression fractures. The technologist will remain in the room with you at all times. The test will last between 10-15 minutes